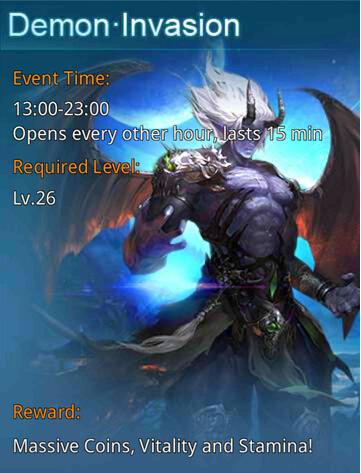 『Event Time』: 13:00 - 23:00 (Open every one hour, last for 15 minutes)
『Require Level』: Lv26
『Reward』: Massive Coins, Vitality, and Stamina
『Details』:
①. There are minions, elites, and boss in the event scene.
②. Tap the monster to enter battle, gain damage point and last hit reward.
③. Points obtained from killing different type of monsters will be varied and more powerful the monster is, the more points will get.
④. A minion can be challenged by only 1 player at the same time, 2 players for elite, and 5 players for boss.
『Hints』:
①. Search the monster fast:
✹ Since the event only last for 15 minutes and need wait for an hour to join again if miss it, thus when enter the room, faster find a monster and tap it to enter the battle. Besides, each minion can only be challenged by 1 player at the same time and there are so many other players who are in the battle condition inside the room, so make sure you can select the available monster fast and accurate, and never hanging around.
②. Choose the target, find the helper:
✹ Different point for boss, elite, and minion, the stronger the monster, the higher point for guild. If meet the monster that cannot defeat, player can choose to revive on the sport by costing ingot or wait for revive automatically after 10 seconds. However player can challenge the elite with maximum 2 people or 5 people for boss.
③. Get reward as long as caused damage:
✹ If meet the monster that you cannot defeat and no one come to help, just try your best to cause damage on the monster. This is because as long as damage caused on it, sure will get points for guild and reward. Since there is early warning for each boss's special skill, so just avoid it when see the warning, then hit and run, and cause damage as much as you can! Stages for damage reward is accumulate each day, which means when reaches certain points will able to collect the reward.
④. Best fighting with continuous skills:
✹ The damage effect and buff which attach on the skill are always different, and able to be used in every fighting scenes in <IDX>. How a player uses these effects and buff expertly is depends on the familiarity of each skills and train it from each fighting. Thus, this expertise will help the player strikes a good result in the event.
There are rewards for BOSS point ranking, damage ranking, and last hit in Demon Invasion. One more thing that deserve special attention is, other than massive coins, points, and Guild Gems, there will have a chance to get drumstick and meat bun too, and everyone will see your name on the Rumour Channel.