$ Along the beautiful and romance journey of immortal, other than cool fighting and attractive visual impact which make the player enjoy the gaming experience, there are also some casual gameplays which allow player to enjoy the game during the free time with full of fun~
$ Money Tree is the faster and easiest way for player to get coin. Player can spend ingot to get the chance to shake the Money Tree and get massive coins as reward. There is also a certain possibility to get double coin to receive unimagined amount of coins as reward!

Money Tree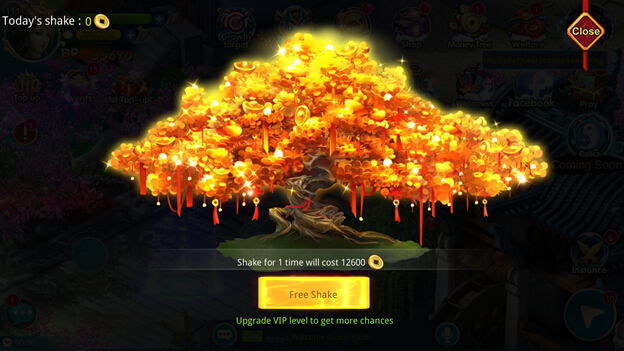 How to Play:-
❶. Money Tree activate: Reach Lv27 and finished corresponding main story.
❷. Player can shake for free once a day and cost certain ingots to get certain chances for shake after finish the free shake.
❸. The more shakes per day, the more ingots cost.
❹. The highest the VIP level, the more chances to shake everyday

❺. There will a chance for Double Coins for each shake.
$ Money Tree is the main way to get coin in. Bear in mind to shake the Money Tree everyday as don't waste the daily free chance~