Mystery Shop will refresh the 9 rare items at a fixed timing daily. There is a high possibility to have an offer for the items. Such rare and cheap items, how can you miss it?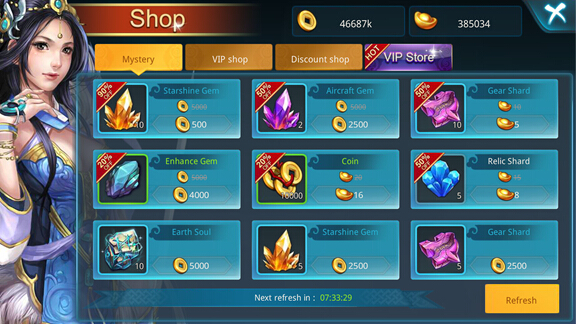 Introduction for Mystery Shop:-
❶. Activate Level: Lv26
❷. Open Hour: Whole Day
❸. Fixed Refresh Time: 09:00, 12:00, 18:00, 21:00 Daily
❹. Mystery Item Sell: 9

❺. Shop Components: Mystery Shop, VIP Shop, Discount Shop, VIP Store
Mystery Shop
✫ There is a possibility to appear offer item for each time Mystery Shop refresh. Player can buy the item by using ingot or coin and each item can only buy once.
✫ If player wish to buy item in Mystery Shop again, can wait for the system refresh, or refresh manually. Player can manually refresh 10 times per day, will cost ingot for each refresh, and the cost of ingot will increase for each refresh.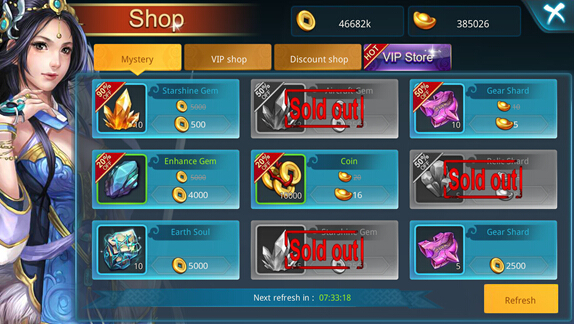 VIP Shop
✫ The higher the VIP level, the more offer items can be bought from VIP Shop everyday. The VIP Shop will refresh at 03:00 daily and it is unable to refresh manually.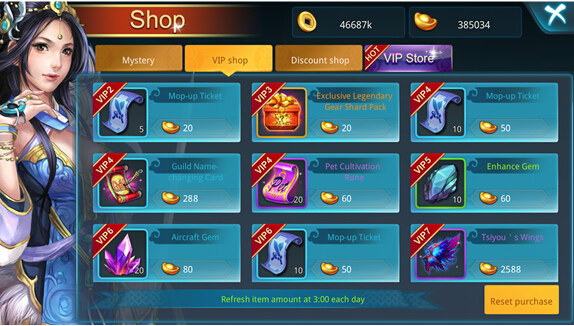 ✫ The Mystery Shop will show some items which might have 90% offer randomly. So, when you find it is appears in Mystery Shop, please don't miss the good chance because for sure this is a super value offer!