I think all of us know that, the requirement of Coins is quite high in this game. If wish to have high battle power, then need to have a good Gear; wish to have good Gear, then need to do enhancement and star-up, but both enhance and star-up require massive Coins. So, where is the Coins come from?
❶. Coin Instance, available at every Tuesday, Thursday, Saturday, and Sunday, which sure is the main method and also the first choice to gain massive Coins, so don't miss it!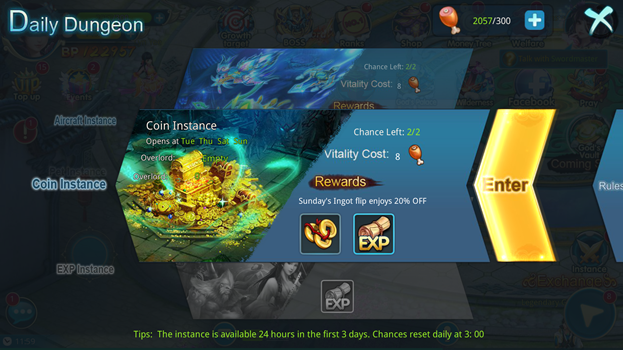 ❷. Get massive Coins through Money Tree everyday, free of charge for first shake! Get Coins from friends through paper scissors rock also an easy way to get Coins. Through Pray can get Coins too, so add more friends, send and receive more Hearts~
❸. Tower Instance, the highest the Floor being challenged, the better the chest drop and payer can challenge the Instance for free everyday, so don't miss it! Besides, for God's Vault, player can challenge the Middle and Top Floor 10 times a day, if successful challenge will get massive Coins too!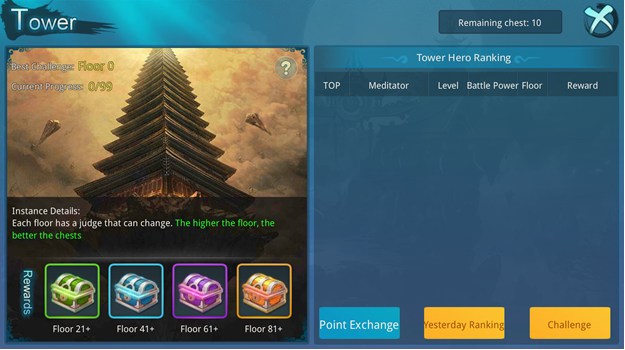 ❹. Adventure, one day one chance to challenge (VIP9 and above will have one more chance), the Coins as the reward also~
❺. Gear Instance, reward Coins for each clear of Instance, extra Coins reward for card flip too. Besides, Holy Arm Instance, Coins reward for each level. So do not wasted the vitality of each day, this is because not only drop the materials during mop up, there are also Coins and EXP as reward.
❻. Spend Stamina and Vitality can increase Guild Activeness, and when the activeness reaches 50%, player can receive Coins as reward directly, but the first thing is make sure you have join a guild~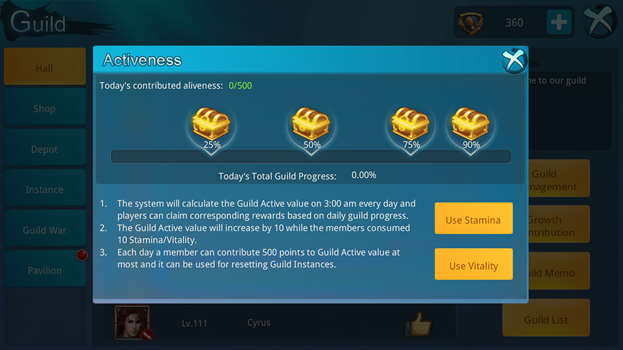 As we know, Ingot also serve as an important resources in the game, other than Top Up to get Ingot, is there any other way to get it?
❶. Check-in, which is counted by week, means 7 days complete a cycle. If player can complete the 7 days check-in, will receive 3 times Ingot reward~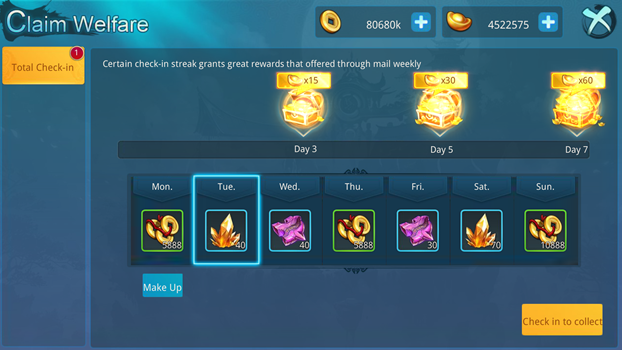 ❷. Online reward, receive 3 times Ingot reward for only online 3 hours~
❸. Arena, there are 5 divisions, as long as increase ranking no matter in any division will receive some Ingots, but once the player breakthrough to the higher division, wilt receive quite amount of Ingots! The settlement for each day at 20:30 will send the player certain Ingots as reward as according to the division.
[Information above is subject to in-game as standard]